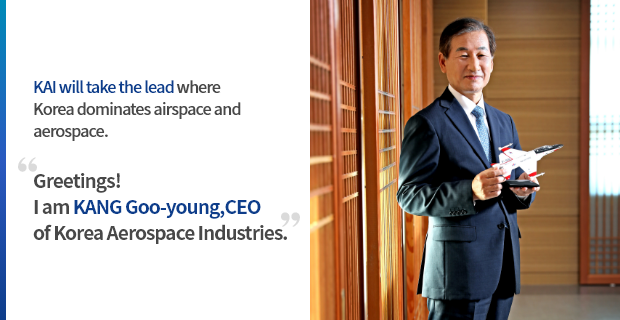 Korea Aerospace Industries (KAI) was established in 1999 when the aerospace industry was mere in an infant stage. Since then, it has been leading the nation's aerospace industries while competing against global aerospace companies shoulder to shoulder for the last 23 years. There have been numerous projects including the development of KT-1, T-50, Surion and LAH. The company is gaining much attention from the industry at the global level as the main body that successfully carried out the initial flying of KF-21 and the launch of Nuri.

KAI is still hungry: it is preparing for another leap forward as one of the major Korean company that can become a genuinely global one with the annual revenue of KRW 10 trillion by 2030. To that end, a series of investment in R&D are planned to create a lot of jobs.

To tackle the issues of future technology development by global firms, it is crucial to take the initiatives in technology for a sustainable growth. To that end, preliminary research are required in the core technology areas of manned-unmanned teaming (MUM-T), unmanned aerial vehicle (UAV), satellite and surveillance monitoring. KAI will be proactive with new growth engine projects including 'new space'. In addition, KAI will gather its full-scale capabilities to become a company with high added values by securing software technologies such as AI, big data and autonomous driving, which will accelerate the 4th industrial revolution.

KAI will create 'something to sell' in the world's best quality by successfully promoting core projects.

That includes not only the successful implementation of developing the KF-21 system but the advancement of satellites and launch vehicles and future-styled commercial aircraft projects as well as the mass production of marine attack helicopter (MAH), maine sweeping helicopter and light armed helicopters (LAH). In particular, KAI plans to launch its 'New Brand' in the global fighter aircraft market to preemptively respond to risks for the successful KF-21 development.

A structural and professional marketing strategies will bring more to create profits.

KAI has been highly regarded as a manufacturer of the world's best aircrafts including its own KT-1, T-50, Surion, satellite, launch vehicles and commercial aircrafts. To expand revenue and profits, it is essential to expand its market overseas after the success in the domestic market. Based on my experience as a pilot for demo flight, I will be in clients' shoes as the CEO. KAI will promote its overseas marketing while expanding the export.

KAI will become a company beloved by its customers and shareholders!

KAI won't make itself comfortable with where it is: its tenacious innovation and spirit of challenges will improve its corporate performance and enhance corporate values. The efficient organization will prove ourselves that we gain our customers' reliability and receive the support from our shareholders. By creating the corporate culture that is sound and mutually respectful, the company will actively cooperate with its partners, which will make KAI a global company that its citizens of the Republic of Korea are proud of.

We urge your interest and support.

Thank you.
September 6, 2022
Korea Aerospace Industries, Ltd.
CEO KANG Goo-young