Development Capability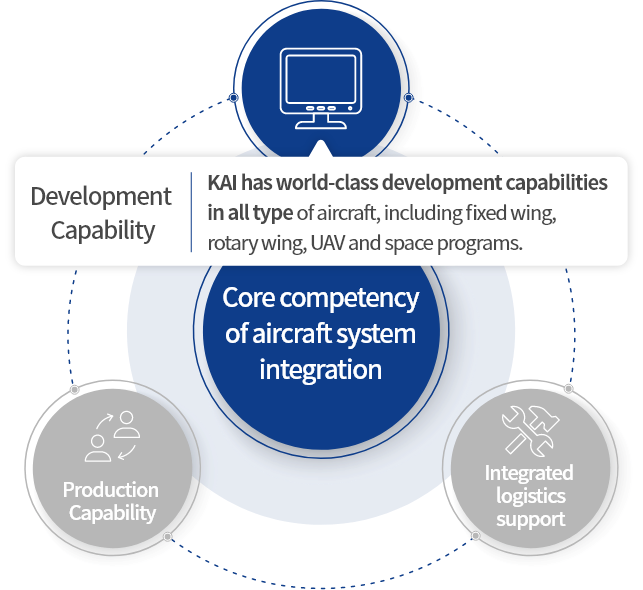 Development Capability
KAI has world-class development capabilities in all type of aircraft, including fixed wing, rotary wing, UAV and space programs.
Holds multiple excellent personnel who have a diverse development experience in the KT-1, T-50, KUH-1, UAV and training system/ILS, and more.
Sets up perfect digital aircraft design infrastructure, including 3D design via CATIA system, pre-assembly by mock-up system and development information management via PLM (Product Lifecycle Management).
Secures test evaluation infrastructure ranging from ground test to flight test as shown in the full scale airframe structural test, fuel system operation test and holding test pilots in the company.
Holds manpower with excellent experiences and infrastructure which can perform Korea multi-purpose Satellite (Arirang), Geostationary Korea multi-purpose satellite (Cheollian), compact advanced satellite, and the electric & electronic parts, platforms and system development of the defense satellite.
MUH-1 Amphibious Assault Helicopter Simulator
T-50 Ground Test

KUH-1 Aerodynamics
Interpretation

KF-21 VR(Virtual Reality) Design

LCH Wiper Ground Test

NI-600VT(VTOL)
Ground Test Site

Compact Advanced Satellite 500
(CAS500) Test